Cheap Les Paul Guitars Users Rave About

Get Our Deals Newsletter!
Huge discounts on guitar gear.
Don't miss out...
It's one thing finding cheap Les Paul guitars, another finding LPs that don't sound cheap.
Time and time again I come across a review or forum post stating how ridiculous the price gap is between the $2000+ Gibsons and the sub-$300 "copies". In the guitar world, the old rule of "you get what you pay for", although still relevant, is becoming less and less an indicator of quality, as you'll see and hear.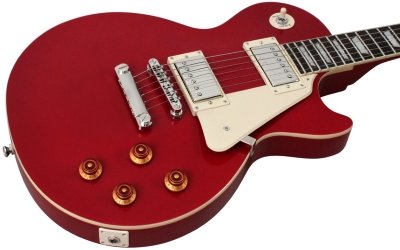 Top Cheap Les Paul Copies
If you're looking for a Les Paul style guitar on a budget, there has never been a better time. We've whittled it down to four solid picks based on the opinions of both new and experienced players.
The top 4 at a glance...
Model
LTD EC-256
Epiphone LP Standard
Vintage V100
AL-2000
Manufacturer
Website
espguitars.com
epiphone.com
jhs.co.uk
agileguitars.com
Defining Features
Thin U neck profile. Metal ready. Coil tap for additional tones. Extra jumbo frets.
Solid mahogany body. Set neck. Tone faithful to the modern Gibson Standard.
Classic LP spec. Vintage ceramic humbuckers. Set neck. Jumbo frets
Maple neck (brighter tone). Vintage ceramic humbuckers. Solid body. Set neck. Jumbo frets.
Scale Length
24.75"
24.75"
24.75"
24.75"
Neck
Set-In Mahogany
Set-In Mahogany
Set-In Mahogany
Set-In Maple
Fingerboard
Rosewood
Rosewood
Rosewood
Rosewood
Frets
22 Extra Jumbo
22 Medium
22 Jumbo
22 Jumbo
Body
Mahogany
Maple Top
Solid Mahogany
Maple Top
Mahogany
Maple Top
Solid Mahogany
Maple Top
Inlays
Flag
Block
Crown
Block
Pickups
ESP LH-150 Humbuckers
Alnico Classic Humbuckers
Ceramic Humbuckers
Ceramic Humbuckers
ESP LTD EC-256

Modified to meet the requirements of the modern player, with hot, metal-ready humbuckers, which adds a whole new dimension to your tonal options not offered by the more traditional variants.
The thinner neck and lighter body doesn't seem to take away the depth and richness LP lovers demand, meaning those who prefer a less bulky profile can still enjoy the meaty tones. The coil tap (simply click up the volume knob) allows you to effectively switch the humbuckers into single coil mode for a skinnier, noise-free Strat-like chime and twang.
Users are impressed by the stock ESP pickups - noiseless, punchy, well balanced and not too dark or muddy. In fact they're a little brighter and snappier than your typical Les Paul clone. The EC-256 stands out from others on this page in that there's little to no expressed desire from users to change the stock pickups. This is reflected in the highest rating of the four.
Extra jumbo frets give you that scalloped neck feel and, coupled with the slim U neck profile, puts this axe confidently in shredding territory, confirming it as one of the most versatile cheap Les Paul style guitars available.

Epiphone Les Paul Standard

For many budget musicians, the Les Paul Standard is a crucial step up in quality from the even more modestly priced LP100 and Special II models offered by Epiphone. The main differences are an arched (as opposed to flat) top, set neck and solid mahogany body (that's one piece as opposed to several pieces glued together).
The result is a look, feel and tone much closer to the Gibson Standard. The general consensus is, if you were considering either the LP100 or Special, it's worth saving the extra 150 or so bucks for stronger construction, more sustain, harmonic response and an overall meatier Les Paul crunch.
The Standard Plus-Top (add about $50) gives you the option of a flame maple top, although not quite as detailed as the impeccably hand finished USA Gibsons.
The Standard delivers that rich, warm and gutsy tone all Les Paul players fell in love with. When the inevitable comparison is made between the Epiphone and Gibson Standard, the Epi perhaps lacks some mid-range depth and bite, due to cheaper materials, electronics and stock pickups. But the fact that it is six times cheaper than the Gibbo quickly puts things into perspective. You can always upgrade the pickups and pots. The solid foundations are there.
Some players (and not just inexperienced players) can't even tell the difference or simply think the two sound different, rather than one sounding "better" or "worse". This ultimately boils down to your personal judgement.

Vintage V100
Hailing from Britain and the family run John Hornby Skewes factory, the Vintage V100 has become one of the most respected, authentic Les Paul copies available. Residents outside the UK should be able to get hold of a V100 through Ebay or local stores/classifieds.
Users note how versatile the V100 is, with that fat, deep and gutsy LP warmth as the foundation for many different styles of playing. The tone knobs are surprisingly responsive and sweeping for a guitar of this price, without muddying or muffling the tone when things are pulled back.
The set mahogany neck and thick body (only a couple of pounds lighter than the Gibson Standard) help towards producing excellent sustain and harmonic response.
The V100 offers everything players look and listen for in a traditional Les Paul, at a fraction of the cost, and the quality has surprised even the most experienced of players.

Agile AL-2000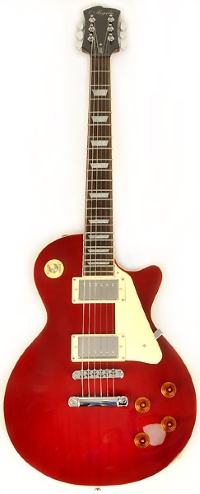 Just unbelievable value for money. Rondo Music are known for their beautifully crafted budget copies with seemingly no corners cut. The reviews that truly stand out are those by more seasoned players who don't just see their AL-2000 Les Paul copy as a backup or "beater", but as a solid, no-nonsense gigging and recording instrument.
A little upgrade work, such as pickup change, electronics, a $40 setup and you'll be very close to the Gibson standard. Or keep it stock and you'll still have something very playable.
There's attention to detail here, such as the pickups' wax potting, which helps keep feedback under control at high volume/gain. The tone on the 2000 is more faithful to the original standards than the slightly hotter ESP and Epiphone. The ceramic pickups deliver a tight vintage crunch whilst not sacrificing that beautifully fat LP warmth.
In contrast to the other cheap Les Paul guitars on this page, the AL-2000 features a set-in maple neck as opposed to mahogany which gives you brighter, crisper overtones against the natural darkness of the deep mahogany body. A balance that many players appreciate, especially those who are buying their first LP from perhaps owning a smaller bodied guitar.
You can also get the AL-2000 with a Floyd Rose tremolo and in a wide selection of finishes and with options such as gold hardware. Credit to the guys at Rondo for giving those of us on a budget such a huge range of customisation.

Was this helpful? Please let others know, cheers...

Get Our Deals Newsletter!
Huge discounts on guitar gear.
Don't miss out...
Share Your Thoughts...
blog comments powered by