Top 5 Cheap Tube Amp Heads

There are two myths when it comes to shopping for cheap tube amp heads I'd like to dispel right off the bat...



1.

The wattage on cheaper tube heads is too low for live performance and only good for practice.



2.

The stock tubes on budget models are of poor quality and need replacing.

Firstly, wattage alone is not an indicator of overall power/volume. If you're used to basing your output on solid state wattage (which tends to be in the 50-150 watt range for typical small-med venues), you'll be surprised at how far as little as

15

all-tube watts will take you in comparison.

In short, the below selection of tube heads (with 4 averaging at a whopping 9/10 in user ratings) have enough power for small-mid size gigs.

As for the second point, these top 5 picks stand above all others in their price range (under $500) as far as stock quality. If you're on a budget, you won't want any additional costs, and rest assured you won't need to change anything with these highly praised heads to get that unmistakably rich and dynamic tube sound.

Compare Cheap Tube Amp Heads
Click the table below to enlarge...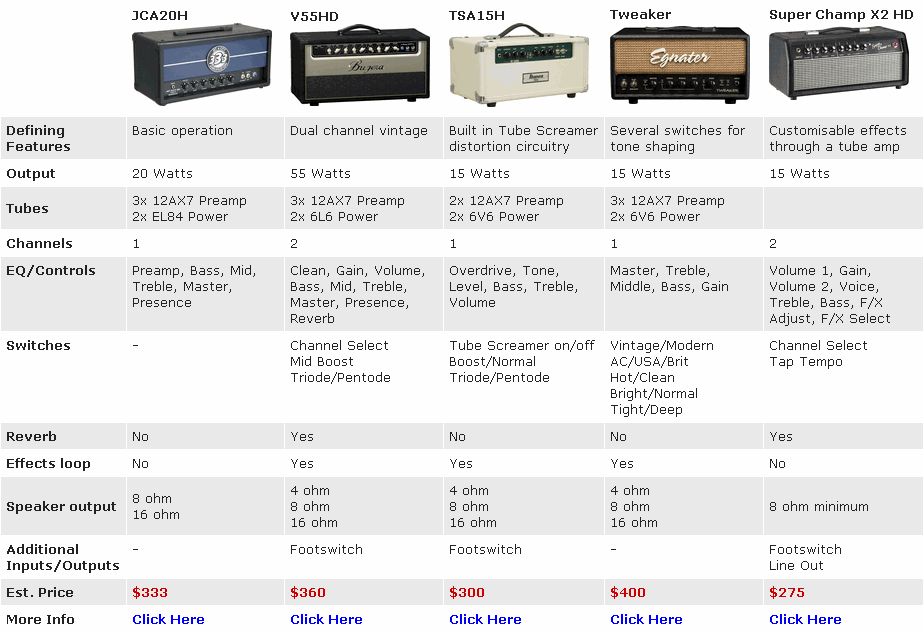 Jet City JCA20H Tube Amp Head



What users say



A basic, single channel head with a surprisingly versatile palette of tones. Some users claim it lacks the headroom for truly clean playing but, as demonstrated in the videos, you can roll back the dials on both the amp and guitar for some very usable cleans.

However, the JCA20H truly comes into its own when you dig in your pick for those overdriven lead solos. The natural compression of the tubes, nicely sensitive to pick attack, gives you the responsive crunch you need for those expressive lead phrases.

The "break up" distortion is natural and dynamic - everything guitarists desire in a tube amp. Users have found themselves drawn to using their guitar's volume pot more with this head. It responds beautifully to the subtle changes in your signal, without losing its strong low and high end presence.

A true Soldano classic on a budget. The only thing some users are calling for is a dedicated effects loop, but the head's simplicity perhaps lends itself more to the tonal purists out there.



Bugera V55HD Tube Amp Head



What users say



For those who want to retain that authentic vintage tube vibe but with the convenience of two independent channels. The V55HD, like its popular 22 watt combo version, delivers cleans and crunch in one footswitchable unit. Add to that built-in reverb and a useful mid boost switch, giving you more control than most amp heads in this price range.

Users generally agree that the greatness of this head is embodied in its cleans, with the gain channel being a useful option but with less character than many of the single channel contenders.

Output can be scaled back using the rear pentode/triode switch (55w to 22w) for those quieter bedroom practices. This is not merely like turning down the volume, rather a way to keep the tubes working hard for your tone at a more manageable level (for example, if you prefer to crank the master to get your desired tone).

There's a sense that Bugera have tried to make the V55HD cover all bases, and it's certainly far from a "one trick pony". It gives you all the room you need for experimentation and finding that sweet spot.



Ibanez TSA15H Tube Screamer Amp Head



What users say



Rugged Ibanez construction with built-in Tube Screamer overdrive circuitry. This is a powerful combination for anyone who wants the thick, meaty, mid-heavy overdrive of the now legendary TS pedal directly through the punchy warmth of tube amplification.

A look at the rear panel reveals a generous array of cabinet outputs. Another useful addition to the spec includes a pentode/triode switch to keep your tone nicely saturated at lower volumes (from 15w down to 5w).

It's closer to handling metal than the previous two vintage picks, but still tameable enough to deliver deep, rich and organic clean tones (thanks in part to the 6V6 power tubes) with the slightest of optional break up distortion. Those who like to play tight between clean and distorted will love the TSA15H's ability to put you right on the edge.

Experienced users got more than they expected, with some feeling the TSA15H puts far more expensive amps to shame.



Egnater Tweaker Tube Amp Head



What users say



Tweaker by name and highly tweakable by nature (sorry, that was terrible). With 5 onboard switches (Vintage/Modern, USA/Brit/AC, Hot/Clean, Bright/Normal and Tight/Deep) in addition to the standard 3 band EQ, there's plenty to shape your tone just how you like it.

There's also plenty of headroom for your cleans at higher volumes while a twist of gain will satisfy most rock appetites thanks to the switching capabilities. The Hot/Clean switch helps open up or tighten the overdrive, with the Vintage/Modern and USA/Brit/AC switch providing more options for boosting and/or changing the texture between crunchy and smooth.

However, under all this tweakability lies solid tube tone that begs to be pushed beyond bedroom volumes and has surprised even the most seasoned working musicians. Loud enough to over power even the most heavy handed drummer, with all the low and high end presence you'll ever need, the Tweaker proves 15 all tube watts is indeed enough for most live situations.



Fender Super Champ X2 HD Tube Amp Head



What users say



The Super Champ X2 is, simply put, a tube amp head with built-in digital effects - what is often referred to as "vintage modified". The idea is players who want an all-in-one effects solution, but still crave that authentic tube tone have the best of both worlds.

The X2 connects to your computer via USB where you can load up the FUSE software and create/edit your own effects. You can even download effects created by members of the FUSE online community, tweak them to your tastes and store them on the amp. Welcome to the 21st century!

There's also 16 editable amp models to choose from. So this is a versatile and heavily customisable amp. Of course, if you like you can forget about the software and just use the tubes in all their naked beauty, which is what some have done, purely for that classic Fender tone - bright, clear and ballsy. At such a ridiculous price, the digital extras really are just an added bonus.

So versatility is what clearly separates the X2 from the other heads on this page, having the guts to accomodate modern metal styles. Many users were undoubtedly expecting to hear some hint of compromise, but it appears as if Fender really have pulled off the all-rounder, master of all trades amp head.



Was this page helpful? Please let others know, cheers...



Have an addition to the Guide? Enter the details and we'll do the research...
blog comments powered by
< Return to

Cheap Guitar Amps