Top 4 Cheap Acoustic Electric Guitars

When searching for good cheap acoustic electric guitars, keep in mind how much time will be spent plugged in vs unplugged.
Many models have a deep, full bodied tone that can be lost through the pickups, making the electronics suitable only for backup or additional line support, when a stage mic isn't available, or for minor band support.
Others have thinner bodies with more dynamic onboard EQs and only truly shine when amped up.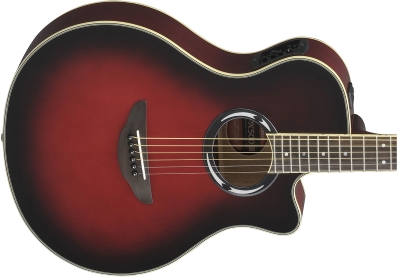 Our Top 4 Cheap Electro-Acoustics
So, this guide has been compiled with both elements in mind, covering both full sized dreadnoughts and slimmer thinline models. Choose what's best for you.

Model
Fender CD-140SCE
Yamaha FGX700SC
Ibanez Talman TCM50
Yamaha APX500
Manufacturer
Website
fender.com
yamaha.com
ibanez.com
yamaha.com
Best For
Guitarists who want a solid top dreadnought and only need the preamp as backup.
Guitarists who want a brighter sounding solid top dreadnought.
Guitarists who want the comfort and playability of an electric guitar in an ultra-compact acoustic.
Guitarists who want a thinline as a good compromise between plugged/unplugged tone.
Defining Features
Solid top. Full, deep sound.
Solid top. Bright, crisp sound.
Small body, double cutaway, bright, crisp sound.
Thinline body, bright, crisp sound.
Top
Solid Spruce
Solid Sitka Spruce
Figured Ash

Spruce
Back
Mahogany
Nato
Mahogany
Nato
Sides
Mahogany
Nato
Mahogany
Nato
Neck
Mahogany
Nato
Mahogany
Nato
Preamp & Electronics
Fishman Presys
3 Band EQ
Phase (feedback control)
Tuner
Low Battery Light
System 55T
3 Band EQ
Extra Mid Control
Tuner
Low Battery Light
AEQ200M
2 Band EQ
Low Battery Light
System 66
3 Band EQ
Extra Mid Control
Tuner
Low Battery Light

Fender CD-140SCE
While Fender's acoustic reputation falls considerably short of its now iconic electric status, the CD-140SCE is one of the best pre-amped dreadnoughts you'll find in its modest price range (just $300).
The solid spruce top and deep mahogany sides give it a rich and full tone with plenty of volume unplugged.
Users consistently report low actions and high quality construction straight from the store, meaning you likely won't have to worry about paying out extra for a setup.
The onboard Fishman Presys preamp gives you ample control over your plugged in tone, with a 3-band EQ (bass, middle, treble) and a phase switch which helps to control feedback.
Also included is an onboard tuner with clear, LED display and a useful low battery warning light.
Obviously the pre-amp won't be able to replicate the natural, unplugged tones in the same way an external mic will, but it's a useful backup for when a mic isn't available in a gig setting.


Yamaha FGX700SC
Our second dreadnought pick. Yamaha have a proud history of producing some of the best selling acoustic guitars.
The FGX700SC (S = solid top, C = cutaway) is the electro-acoustic version, with all the best features of its best selling counterpart - low action, fast neck and a bright, vibrant tone.
Many users chose the Yamaha over the Fender CD-140 because of the extra brightness and clarity, albeit sacrificing some low end - something to keep in mind.

The System55T preamp, as well as the standard 3 band EQ, includes an AMF (Adjustable Midrange Frequency) control, allowing you to further scoop or add presence to those mids. The control function also differs on the Yamaha, with sliders as opposed to knobs which some may prefer.
Like the Fishman, the 55T houses an onboard tuner and battery warning light.
All things considered, whether you opt for the Yamaha over the Fender depends on your tonal preferences (take a listen to the demos below) and your desired finish.


Ibanez Talman TCM50
For those who want the comfort and double cutaway accessibility of an electric whilst retaining those lush acoustic tones, the Ibanez Talman is a fine choice.
The distinction between the TCM50 and the two previous dreadnoughts is clear upon first glance. With a thinline, petite body and double cutaway design, you're sacrificing the fullness and unplugged projection of the traditional acoustic for less bulk and improved playability.
So with electro-acoustics like the Talman, the emphasis will be on the plugged in sound. But the high quality materials will give you decent sustain and presence, with a stunning figured ash top and mahogany back and sides.
While relatively weak unplugged compared to larger bodied acoustics, the Talman shines when amped up, with plenty of low end and a crisp, tight clarity that's closer to a full electric sound (check out the demos below). There's more scope for throwing in lead lines and picked runs, and it'll take effects better than most other acoustics in its price range.
The onboard preamp is simpler than the Fishman and System55T, with a 2-band EQ (bass, treble) and no tuner. The battery light is still there, but the lack of preamp features might put some people off. It's really all down to whether or not you fall in love with its unique plugged in sound. That alone was enough for an overwhelming number of reviewers.

Yamaha APX500

A smaller bodied electro-acoustic that comes alive through its dynamic preamp. If most of your time will be spent plugged in, and your music demands a strong, clear acoustic presence, the Yamaha APX500 has the electronics you need for a big acoustic sound in a live setting.
With a thinline body and slim profile neck, the AXP500 is, in true Yamaha style, built for ultimate comfort and playability. The build quality also meets the standards we've come to expect from Yamaha.
Naturally, given the slimmer and nato dominated cut, the 500 is more towards the bright end of the spectrum, with a very full and crisp high end range - great for those more attacking, punky-folk styles that require more clarity and penetration in the mix.
Users also note the responsiveness of the AXP to strumming/picking attack, especially when the preamp is activated. The extra mid-range control on top of the standard 3-band EQ is useful for finding that often elusive sweet spot in different acoustic environments.
The onboard tuner is equally responsive and accurate.
In a nutshell, this acoustic is perfect for anyone who wants more control over their amped sound and more high end presence to cut through the mix during live shows. A good compromise (as in trade off between unplugged/plugged tone) between the full bodied dreadnoughts and ultra slim models such as the Ibanez Talman.

Our Picks At A Glance...
Was this helpful? Please let others know, cheers...

Get Our Deals Newsletter!
Huge discounts on guitar gear. Don't miss out...
Share Your Thoughts...
blog comments powered by