Your Cheap Chorus Pedal Guide

When looking for a cheap chorus pedal, you might be surprised to find some of the warmest, richest analogue tones bang in your price range.
No need to settle for the often dry, tone sucking digital electronics of cheaper pedals - just pure, organic phase, shimmer and vibrato that breathes with your playing.
Someone once said "too much chorus will make you sea sick". It's certainly not to everyone's taste, especially those who can't seem to detach it from its cheesy 80's stereotype. However, I hope this page will highlight some of the classier, complex chorus sounds available to those on a budget.
Our Top 3 Chorus Pedals Under $100
Cheapest on the left. Select the pedal name in the table to jump to the review and video demos...
Danelectro FAB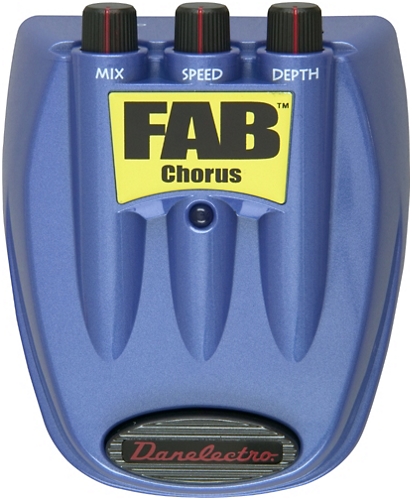 You'd be forgiven for feeling a tad dubious about a $20 piece of (mostly) plastic that looks like a child's toy being sold as a stomp box. But there are astoundingly few bad reviews on what might well be the cheapest guitar pedal available new today. The reason for its praise? Lush, versatile chorus for less than quarter the price of its digital equivalents.
While it's rare that you'd find a decent, new effects pedal for $20, the more experienced among us would instantly think "Danelectro". They have a knack of making these quirky looking, yet deceptively rugged and great sounding pedals. Their cheap chorus pedal offering is no exception.
First - versatility. The FAB can take you from light shimmer to crazy sci-fi oscillations. The depth can give you a spacious, coursed 12 string effect, or tightened for a subtle rotary swirl. Overall, users have managed to find the sound they want (or can stomach) with ease.
Amazingly, on more than a few occasions, it's been compared favourably, or at least equally to Boss budget offerings - the CH-1 and CE-5, partly because, although the FAB doesn't feature true bypass, it doesn't suck your tone like the Boss's. It also may be because, even though the FAB lacks that crystal clarity, it delivers a rich, fat analogue warmth its digital "equivalents" ice over.
Something also has to be said about the housing. Yes, it's plastic and looks like its price. There have even been threads on upgrading the case to something more long term (which, again, suggests the electronics deserve something better). But there is a distinct lack of complaints regarding the integrity of the pedal. Very heavy duty and sturdy, with a grippy base.
The general consensus is - deceptive! Expectations thoroughly exceeded.

Electro-Harmonix Small Clone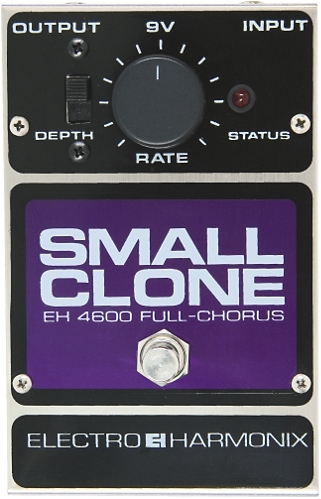 Can I go an entire review of this legendary pedal without mentioning Kurt Cobain? Apparently not. Another affordable analogue chorus with more of an "industry standard" reputation for its unrivalled combination of warmth, clarity and complexity. Oh, and Kurt Cobain used it by the way.
The first thing that sticks out about this pedal is the two-way depth switch as opposed to a more standard knob. However, most users have not found this limiting in the slightest, as it merely gives you two of the most usable depth tones for the rate control to work its magic.
The upper position gives you that deliciously rich chord shimmer that defines the chorus sound at its most beautiful to most ears. Let's face it, chorus can, and is often even supposed to sound a bit cheesy, but the Small Clone makes it sound elegant and timeless. Push the depth switch to the lower position for a thinner tone, which makes higher rate settings more usable, giving you a sharp vibrato effect.
Unlike its smaller sibling, the Nano Clone, there's no bass loss with the SC, and with a far stronger, wetter presence than its Boss counterparts. Unlike a lot of digital chorus pedals, distortion positively melts over each contour. Complex, rich chorus tone that makes this only a cheap chorus pedal by price tag.
EH have managed to create one of the most natural sounding choruses available, with only the old Boss CE-1/2 giving it a run for its money... and a lot less money.

MXR M148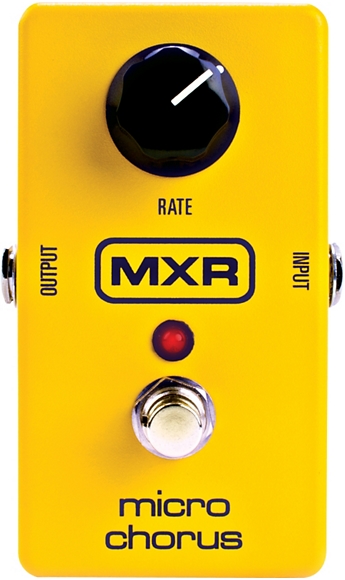 No frills simplicity in a small package but probably the richest chorus sound you can buy. If all you want is immediate, plug and play, full on chorus presence, but without sacrificing the complexity and warmth of analogue technology and the purity of true bypass, have a stomp on this.
With only one control - rate - the M148 does not give you much opportunity to squeeze its already perfect, rich chorus tone. It keeps your tweaking extremely focused.
To compensate somewhat, the rate knob is, therefore, sweepingly sensitive, yet constrained to only the most usable of ranges. Yes, it's subjective, and some users have wished for more control, but after hearing what the Micro can do, you'll know what it does best and whether or not it's the sound you've been listening out for (take a listen to the demo videos below).
Starting at 12:00, you get a beautifully balanced, chorus shimmer. To the left is an almost flanger like phased swirl. A hard right will give you pure vibrato. Switching the Micro on will also give you a juicy signal boost, which could be considered a bonus for many.
Overall it's the thickest, most saturated chorus tone you'll come across, but in such an irresistibly indulgent way. I get the impression that if this thing were a dessert, it would satisfy even those with the sweetest tooth. It's for players who want real attention grabbing presence with their chorus.
The only price at which this sweetness comes is noise. Not much noise, but enough to shave off a point or two. The signal boost is part of the trade off, and it's not going to be an issue in band situations.

Our Picks At a Glance...
Was this helpful? Please let others know, cheers...

Get Our Deals Newsletter!
Huge discounts on guitar gear. Don't miss out...
Share Your Thoughts...
blog comments powered by