Top 5 Cheap Distortion Pedals For Guitar

Many cheap distortion pedals sound fizzy or tinny and lack the warmth and depth to do your amp justice.
So, with this in mind, we've hunted down the best distortion pedals under $50 that have consistently impressed users and secured a place in their effects loop.
Whether you're looking for some classic rock crunch, smooth leads or full on metal mayhem, the below picks have you covered.
If you know of an inexpensive distortion pedal that deserves a place here, let us know in the comments at the foot of this page!
Our Top 5 Guitar Distortion Pedals Under $50
Model
Behringer UM300
Modtone MT-DS
TC Electronic Dark Matter
MXR M69 Prime
Boss DS-1
Manufacturer
Website
music-group.com
modtone.net
tcelectronic.com
jimdunlop.com
bossus.com
Best For
Old school thrash and speed metal. Plenty of "mid scoop" attainable.

Hard rock, punk and classic rock with a smooth mid presence.

Modern metal with especially strong lead tone.

Hard rock with an aggressive mid-high end crunch and clarity.

Alternative rock/punk styles. Thick, dirty and gritty.

Controls
Distortion
High
Low
Mid
Mid Freq.
Level
Tone
Level
Gain
Gain
Level
Bass
Treble
Voice
Output
Tone
Distortion
Tone
Level
Distortion
In/Outputs
Input Jack
Output Jack
AC Adaptor Jack
Input Jack
Output Jack
AC Adaptor Jack
Input Jack
Output Jack
AC Adaptor Jack
Input Jack
Output Jack
AC Adaptor Jack
Input Jack
Output Jack
AC Adaptor Jack
Behringer Ultra Metal UM300
Evidently based on the popular Boss MT-2, Behringer's UM300 gets satisfyingly close to the "real deal".
Ironically pretty in pink, this is a distortion pedal for those looking to keep old school, 80's/90's thrash metal alive. It offers that smooth yet searing sustain that saw metal giants Metallica, Slayer and Megadeth take speed and glam metal to a whole new level of intensity.
But the dual mid controls also allow you to scoop your tone into Pantera and Exhorder territory.
In fact, out of all the pedals on this page, the Ultra Metal certainly wins on raw spec features with its 4-band EQ. It also offers the most gain out of the 5 pedals.
Although it might lack the depth and crushing brutality of the more expensive MT-2, at just $25 you really have to hand it to Behringer, who often take a lot of flak from gear heads, for producing an authentic and giggable/recordable heavy metal distortion.
The plastic housing is a bit of a let down in all honesty. But unless you stomp like the Hulk throwing a tantrum, it should hold up fine.

Modtone MT-DS Speedbox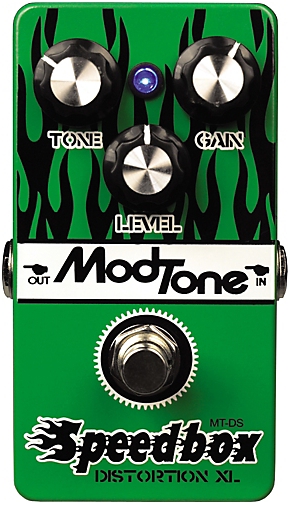 More comfortable in the classic and hard rock derivatives, the Speedbox is a simple and articulate distortion pedal that will handle big chord playing as well as it does single string melodic riffs.
With a single tone control, there's not much to tweak in terms of EQ, but some pedals just play the "one trick pony" card incredibly effectively and proudly.
Roll back the gain knob and you have a clear, articulate overdrive to boost and punctuate your lead lines. Crank it and you'll enjoy a decent amount of mid-heavy growl without sacrificing clarity. This makes it great for pushing blues and softer rock styles into hard rock territory when needed.
While many cheap distortion pedals turn to mush as you twist passed 9 o'clock on the gain dial, the MT-DS holds it together right to the maximum, giving you the benefit of huge sustain for lead and held power chords without the loss in articulation.

TC Electronic Dark Matter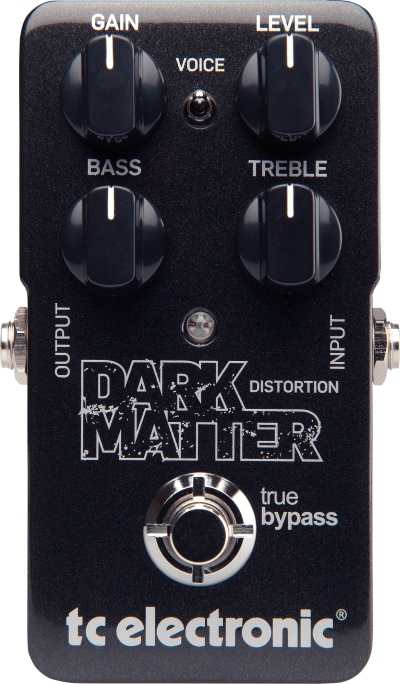 An excellent compromise between the articulate clarity of the MT-DS and the brute gain of the UM300. This makes it a good fit for more modern rock and metal, which generally demands that bit more mix-cutting presence and harmonic articulation.
Probably the most versatile of the 5 pedals featured here, it offers a truly sweeping gain control and a responsive dual band EQ. But where it really shines is lead playing, giving you masses of sustain for those shredding runs, but also enough bite for blues and classic rock with the gain rolled back.
A nice additional feature is the Voice switch which, although subtle, gives you some instant variation. You'll likely decide a permanent position for this switch shortly after you start playing. But it's there if you need it.
The rugged metal casing is supported with rubber feet, meaning minimal slippage when things get lively on stage.
Overall, a flexible and high gain pedal that many consider challenges those double, even triple its modest price tag.

MXR M69 Prime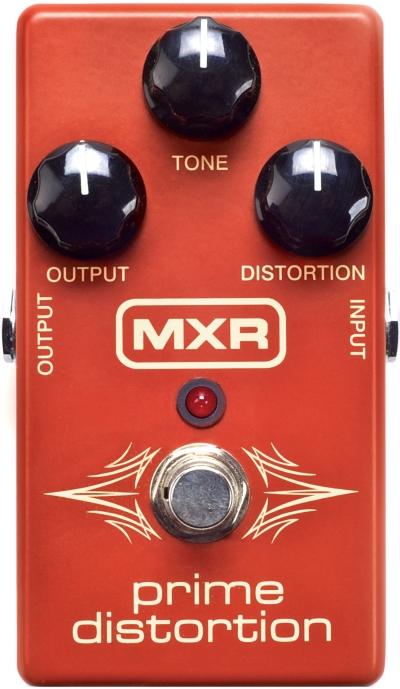 MXR are known for their high quality, simple and affordable analogue pedals and the Prime firmly upholds that reputation.

A slightly ballsier version of the Dark Matter that really bites. Bright, clear and brilliant and, like the Dark Matter, the M69 Prime Distortion can reach high levels of gain without sacrificing that cutting articulation required for hard rock.
With a slight twist of gain, you get an irresistible crunch and satisfying pick attack that will breathe dynamics into those bluesy licks. Pile on a bit more and you'll be amazed at the fullness of your power chords and screaming articulation of your lead lines.
So it's an especially aggressive distortion that lifts everything in one swoop. It's more about mid-high end growl over smooth, scooped and chunky like the Behringer UM300.
Compared to the Mod Tone Speedbox, it's less mid heavy, so again a lot of the smoothness is sacrificed for a more biting attack.

boss dS-1
Without doubt the most famous of the five pedals, boasting a long line of pro musicians who swear by the DS-1's unique, alternative sound.
While it's easy to pigeon hole the DS-1 as a "grunge" pedal, it's more versatile than many give it credit for.
Saying that, it does have an undeniable signature sound at its core - thick, dirty and slightly rough around the edges. Palm mute a power chord and you can hear it chug, but pull the gain back and you can get a very understated break-up fray to the edges of your picked chord sequences.
With the gain pumped you get an incredibly fat, warm wall of sound with gritty overtones. Pull back the tone to turn that grit into fuzz. No, it's not to everyone's taste, but if you want pristine, growling clarity, look to the three offerings above. On its own, the DS-1 is more about plunging you to the murkier depths of distorted riffage, an overall rawer, lo-fi experience.
What a lot of players tend to do is run an additional overdrive pedal through the DS-1. Some pedals come alive with a little extra support and although the DS-1 can hold its own, an overdriven signal will open up that grit and low-mid thickness to some more articulation and bite for lead solos.

Our Picks At a Glance...
Was this helpful? Please let others know, cheers...

Get Our Deals Newsletter!
Huge discounts on guitar gear. Don't miss out...
Share Your Thoughts...
blog comments powered by