Best Rated Cheap Guitar Cables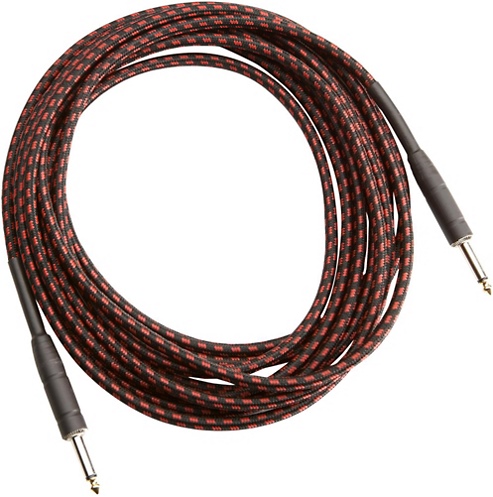 There are an overwhelming number of cheap guitar cables out there and it's easy to get tangled up in price vs quality when choosing the right one.
If you don't have much to spend on your gear, sacrificing quality for price is a false economy. Cables that last a few months and then die or crackle are simply no good, no matter how cheap they are!
You just need to know what are the very best quality cables for the lowest possible price.
Here you go then...
1. GLS Audio Guitar Cables (Our Pick)
Not a "big name" in the industry, but have a loyal customer base regardless. GLS produce ultra flexible, zero noise cables boasting some of the lowest Picofarad ratings (that's good...) in the business.
Best of all, a 20 foot tweed cloth jacketed cable of theirs will only set you back $13 or so.
The reason these cables stand out from the crowd is the massive number of 5 star user ratings - far higher than any other guitar cable in this price category, even beating more expensive cables.
At the time of writing this, there were almost 2000 user reviews across their instrument cable range on Amazon, averaging a score of 4.8/5.
They're limp and flexible enough that they don't kink up, meaning the excess length falls flat on the floor where it should be, avoiding any embarrassing trip ups on stage.
You can choose between both straight-straight jacks or straight-right angle, with a further choice of a yellow or black tweed jacket...
If you prefer curly cables, GLS also beat all others in their price range.
Curly cables reduce ground slack, meaning less chance of standing on the cable and accidentally yanking the jack out. But they're flexible enough that they'll have plenty of "give" as you move away from the amp.
Ideal if you like to move around a lot when playing...
2. Musician's Gear Guitar Cables
Worthy of mention. Strong reviews, though not quite on par with GLS, with an average rating of 4.6/5 across 320+ reviews (at time of writing).
However, for what it's worth, there's a wider range of tweed patterns to choose from. Always go with tweed! Not necessarily for how they look, but they are more weighted, flexible and less prone to kink "memory" than the standard rubber jackets, especially on cheaper cables...
Was this helpful? Please let others know, cheers...

Get Our Deals Newsletter!
Huge discounts on guitar gear. Don't miss out...
Share Your Thoughts...
blog comments powered by