Top 3 Cheap Hollow Body Guitars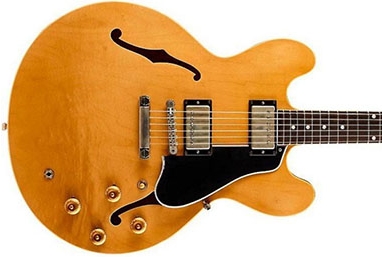 This page picks out the best cheap hollow body guitars (also known as semi-acoustic guitars) as rated by hundreds of players. Guitarists on a budget can now enjoy that sweet, complex tone only a sound box can produce.
Every guitarist should have a hollow body at hand to open up their tonal range and inspire their creativity in new directions.
Hollow bodies do tend to be more expensive than solid body electrics. But as little as $400 will get you a high quality semi or full hollow... as long as you know where to look...
Our Top 3 Hollow Bodies
The comparison table below includes both semi-hollow and full hollow guitars.
The semis can be seen as a compromise between full hollow and solid body electrics - they'll handle gain/distortion better than the full hollows.
But if old school jazz and blues is your thing, a full hollow body will give you the sound you need.
Model
Epiphone Dot
Ibanez AS73
Ibanez AG75
Manufacturer
Website
epiphone.com
ibanez.com
ibanez.com
Defining Features
Authentic Gibson ES-335 spec. Grover tuners. Tune-o-Matic bridge. Big, Les Paul-like sound.
A more modern take on the ES-335 spec. Sounds somewhere between a Strat and Les Paul.

Based on the Gibson ES-175. Large body delivers a full, rich jazz box sound.
Tuners
Grover
Ibanez
Ibanez
Neck
Set In Mahogany
Set In Mahogany
Set In Mahogany
Fingerboard
Rosewood
Rosewood
Rosewood
Frets
22 Medium
22 Medium
22 Medium
Body
Maple (semi hollow)
Maple (semi hollow)
Maple (full hollow)
Inlays
Dot
Dot
Block
Pickups
Alnico Classic Humbuckers
Classic Elite Humbuckers
Classic Elite Humbuckers
Bridge
LockTone Tune-o-Matic
Ibanez ART-1
Ibanez ART-1
Epiphone Dot (semi-hollow)

A cheaper version of the famous Gibson ES-335, and just as well known. It's a big sounding semi, so even if you were specifically looking for a full hollow body, you might find this opens up your options a bit.
If you're after a quality double cut archtop, backed by the Gibson name, the Epiphone Dot is simply incredible value for money.
Traditional Gibson features (big curves, fat set neck), but surprisingly versatile. All the cost cutting measures from the Gibson original have been the right ones, preserving everything that matters - tone, build and playability.
The stock humbuckers produce a wide variety of tones, from vintage jangle to boxy and boomy. It even has enough snarl for rock and raunchier blues numbers.
The Dot is not the mellowest sounding hollow body, so if you like your rhythm playing with a fair bit of bite you'll appreciate the Dot's ability to cut through the mix a bit more without sacrificing those warm, boxy tones. The Dot is often seen/heard used in a rock context so you can be assured it will handle plenty of gain/distortion. Think of a Les Paul with a bit more body and depth to its tone.
Well rounded is how you could best describe the Dot. Tone-wise, you can get so much out of it, which is exactly what tempts more open minded players away from the Les Paul to the ES-335. If you want a traditional semi-hollow body that can handle distortion without the unwelcome side serving of ear piercing feedback at stage volumes, the Dot is a solid pick.
It remains a gem, not only to players on a budget, but even to the "played there, played that" veterans.

Ibanez AS73 (semi-hollow)
A modern take on the ES-335 that will handle hard rock as comfortably as the softer jazz/blues.
Some veteran reviewers have even compared it favourably to the Gibson 335 itself, which gives you an idea of the quality Ibanez offers in its Artcore range.
While many were expecting a pickup change would be in order at this price, the stock pickups sound surprisingly good - smooth and well balanced, with enough twang on the bridge pickup available when needed.
It's been described as sounding somewhere between a Strat and Les Paul, with a touch more high-end presence than the Epiphone Dot, which is more like an enhanced LP sound. However, that extra treble can be rolled off using the tone pot.
With a slightly smaller body than the Dot, it's not as big sounding, and more closely resembles a solid body than a hollow. But there's just enough body depth to add that warm, buttery layer solid bodies simply can't attain, especially when playing clean in the neck position.
If the Dot is a little too chunky in form and a little too harsh for your ears, but you want something that takes the best from both the Strat and Les Paul sounds, the AS73 is the way to go.

Ibanez AG75 (full Hollow)

Ibanez' Artcore series is always a sure bet. It's always one of the first budget conscious recommendations you'll get from more experienced hollow body players. Ignoring for a moment the very reasonable price tag though, it's seen by many as just a good guitar for any price. The AG75 holds its own, in other words.
Impeccably crafted and assembled, you can be confident you'll be ready to play out of the box. With the quality of construction and finish, you're left asking how they can possibly make it at this price. Well, ok, cheap labour might have something to do with it.
The Ibanez AG75 truly is a work of art, bearing striking resemblance to Gibson's classic ES-175 jazz box.
The stock humbuckers feed through what can be described as a scooped clarity. So you have that mellow jazzy vibe from the sound box, but the pickups and the wood separate each note in the chord cleanly and articulately.
Give the bridge pickup a slight twist of gain and you'll have some surprisingly cutting, yet not harsh lead tones. The gentler rockers, funk and blues players will have enough to satisfy here (just learn to control the feedback - this is a full hollow body!), whereas the jazz players will truly feel at home in the neck position.
With high quality tuners and solid strap buttons, you can rely on the AG75 to take you through a lengthy set if you plan on gigging.
Punchy, boxy, resonant, big and beautiful - everything a full hollow body should be.

Our Picks at a Glance...
Was this helpful? Please let others know, cheers...

Get Our Deals Newsletter!
Huge discounts on guitar gear. Don't miss out...
Share Your Thoughts...
blog comments powered by