Best Cheap Delay Pedals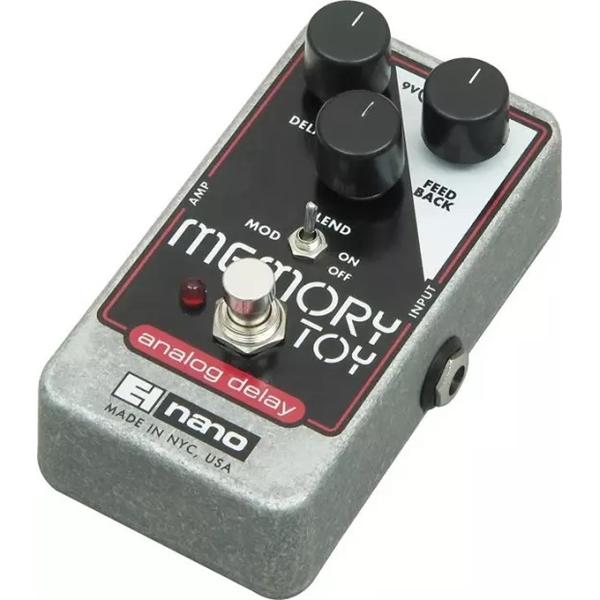 Delay has become an essential part of the lead guitarist's effects repertoire, giving their solos extra depth and ambience to some crazy spaced out sounds.
Each of the cheap delay pedals featured here offer different sounds and hopefully this page will help you decide which one is right for your playing needs.
So we've whittled down the wide selection of available budget delays to just three picks. They're not all the rock bottom cheapest of the bunch, but they do represent the best trade-off between quality and price.
Our Top 3 Delay Pedals Under $100
Cheapest on the left. Select the pedal name in the table to jump to the review and video demos...
Model
Danelectro D-8
Rogue Analog Delay
EH Memory Toy
Website
n/a

n/a

ehx.com
Controls
Delay
Time
Repeat

Time
Level
Repeat

Delay
Blend
Feedback
Mod (on/off)

In/Outputs
9V DC
Input
Output
9V DC
Input
Output
9V DC
Input
Output
Chassis
Plastic
Metal
Metal
True Bypass
No
Yes
Yes
Danelectro D-8 Fab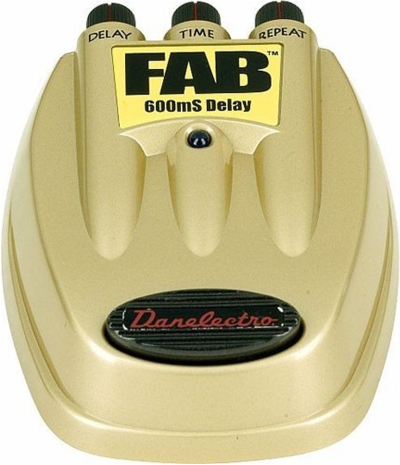 In the same product range as it's FAB chorus pedal, the D-8 is as cheap as effects pedals come (just $25). But like the chorus, the D-8 has thoroughly exceeded expectations.
As expected, it's a basic pedal with one main type of delay, controlled via three knobs. Unfortunately, the controls aren't in the most visible position when you're standing over it, so you have to pick it up to see where the dials are pointing. However, there is one advantage of their positioning in that there's no chance of them getting knocked out of place when stomping.
The D-8 does everything one might expect from a delay, without colouring your tone too much. You can get a decent "slapback" sound at the lowest settings, moving up to more drawn out, ambient-spaciness, with up to 600ms of note-note delay. The decay is smooth and defined right until it peters out.
There's no noticeable change in volume when switched on, which is just as well given the lack of a level control. It also doesn't send an annoying click noise through your signal when you switch it on or off like some (more expensive) pedals.
Although the plastic casing may put some people off, it's surprisingly robust due to its unusual shape and will easily withstand the normal kick around. The rubber grips on the bottom help to keep it in firmly place.
Overall, if you just want the basic delay effect, without colouration or modulation, the FAB will satisfy your needs.

Rogue Analog Delay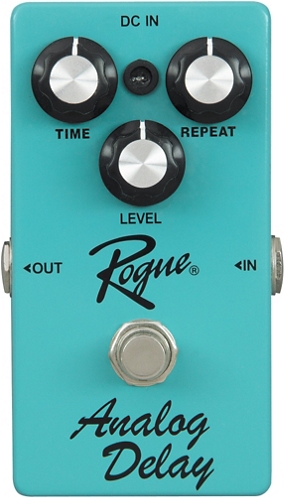 A simple, pure and clean delay. It's as basic as the Danelectro in terms of the delay time available (i.e. around half a second's worth), but you pay a bit more for the metal casing, true bypass and analog warmth.
On the subject of true bypass, that means it won't suck any of your tone when it's switched off (bypass mode). In other words, when off it doesn't interfere with the raw signal from guitar to amp. This is especially important if you have a chain of effects.
While the Rogue won't give you any sci-fi craziness, it will give your output a simple, lush delay from bathroom slapback to more layered ambience. It opens things up nicely without over-the-top saturation. 
The controls are especially responsive. Crank the level knob and you can get a stronger repeat than the FAB. There's also no interval gap when switching on/off like some pedals.
The $25 extra for this pedal over the Danelectro is reasonable given the features described, but otherwise it's on par with the FAB's minimalism.

Electro-Harmonix Memory Toy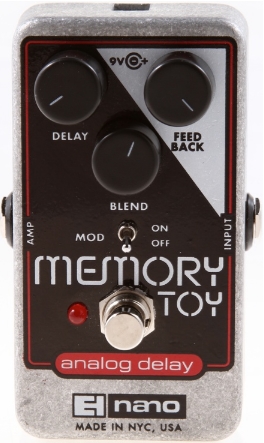 A more feature rich and sonic delay than the other two picks. The Memory Toy gives you the usual basic delay effect but with the added option of modulation for some swirling tape oscillation.
The MT gives you up to 550ms of delay time, so again, a fairly short max delay compared to more expensive pedals. However, there's a lot more ambient saturation available on this pedal compared to FAB and Rogue. It's overall a darker delay with more coloration.
Pushing the feedback knob to its maximum gives you a more drawn out, smooth back echo than most would need. So you can get some particularly spaced out, sci-fi sounds from this pedal for those more sparsely played chord sequences.
Things can get very experimental and there are many sounds hidden in the analog circuitry to be discovered.
It'll take a bit more time to feel this pedal out, but there's definitely more to play with on this toy than other cheap pedals. The modulation switch is another experimental feature, giving you a detuning oscillation that is a whole effect in itself (take a listen to it being used in the demos below).
True bypass gives you a pure signal when it's switched off and the rugged aluminium casing gives it a reassuring longevity.
Overall the Memory Toy offers the most experimentally sonic possibilities out of the three. You'll just need to give it a bit more of your tweaking time and keep your ears truly open for that sweet spot. But if you just want a simple, no frills, slapback delay, go for one of the other two.

Our Picks At a Glance...
Was this helpful? Please let others know, cheers...

Get Our Deals Newsletter!
Huge discounts on guitar gear. Don't miss out...
Share Your Thoughts...
blog comments powered by